your union (fagforening)
What can the union do for me?
We have your back with regards to your employment. From the time your employment contract is to be negotiated to the time your employment ends.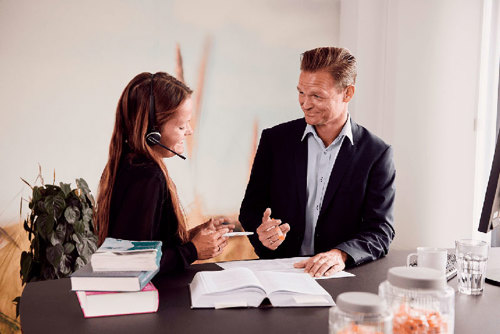 Ase Lønmodtager offers advice regarding its members' employment conditions, and they will also assist you if you need to take a case out against your employer.
If the consequence is that you, in cooperation with Ase Lønmodtager, decide that your case must be brought before the civil court, our process experienced lawyers are ready to take the case.
The employment contract - Have your contract reviewed and be advised on the content.
Check and advice on salaries, commissions, holiday pay, pension, employee benefits, incentive pay etc.
All types of leave, including maternity/paternity leave, parental leave, leave due to family reasons etc.
Counseling in connection with other absence from the workplace, including holiday and illness.
Advice on the termination of your employment, including termination, expulsion, exemption, suspension, member's own termination and other matters related to the termination.
Help if your employer is made bankrupt.
Counseling during your employment if you have problems at work.
Representation and assistance in case of disputes and litigation.
Help and advice regarding work injuries. Amongst other things you can get help with reporting the incident, assessing the course of events and outcome, as well as a possible complaints procedure.
As a member, you can get help with the cases that have arisen after you have joined the union.
Not a member yet?
Become part of more than 140.000 Ase members. It is quick and easy to register as a member in Ase. And you are welcome regardless of whether you are employed, self-employed or a student.
sign up